AM CH GOLDNVIEW'S MERRY BREEZE
"SABRINA"
Sabrina finished her American Championship at just over 2 yrs. old going W/BOW/OS under judge Dr. Donald Sturz Jr. in Cape Cod. Thank you Dr. Sturz ! The next day Sabrina's 1st day in the breed ring she went BOS !!! She is also Canadian pointed. Way to go Bree !
Thank you Rebecca Carner for your ALWAYS beautiful presentation of our girl !
Look for Sabrina in the breed ring !
Below is a picture of Sabrina at her second show going BP,BOS,Winners over all
at the age of 7 months, it was a sign of things to come. We are blessed!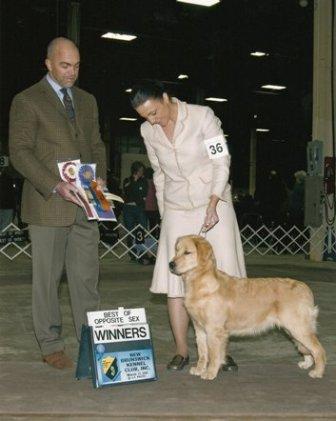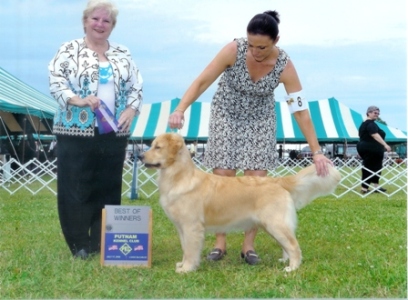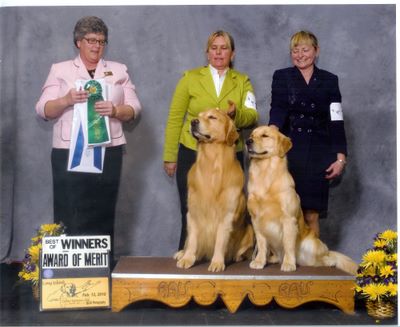 SABRINA AND HER GRAND DAD, AM.CH. NAUTILUS JUST A GIGILO OS SDHF
2010 LIGRC SPECIALTY
NEWS! Sabrina went W/BOW at the LIGRC Specialty! 4 Point Major !
Thank you to Judge Mrs. Nancy Talbott
Special thanks to Diana Mason for presenting "Breenie"
Sabrina also went RW the next day at the Specialty!
What a weekend!
Sabrina is from our first breeding and she sure
made us proud when she won a 3 pt. major over
specials with Best Puppy, Winners and Best of Opposite Sex, in her second show ever at the tender age of 7 months !
A great big thank you to Rebecca Carner for her always
wonderful presentation of our girl!
Sabrina is a special girl and we sure miss her when she's
out "working", which she loves. In fact there's not
too much she doesn't love. Always busy and entertaining with
her true to form golden temperament, Sabrina has beautiful
movement and always puts on quite a show no matter
where she is or what she happens to be doing.
A link to some of Sabrina's show history can be found at