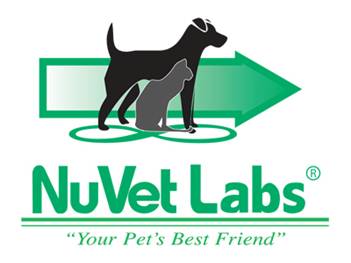 HELP HEAL AND PROTECT YOUR PET AGAINST THE RAVAGES OF FREE RADICALS THAT ATTACK YOUR PET THROUGHOUT IT'S LIFE
NEWS ! READ THE 'NEWS' AT THE BOTTOM OF THIS PAGE
-NUVET can help prolong the life of your dog and cat
-And can help eliminate most ailments
-GUARANTEED!
* Allergies
* Skin and Coat Problems
* Scratching, Itching, Biting, Hot Spots
* Arthritis and Joint Problems
* Premature Aging
* Low Energy Levels
* Diabetes and Liver Problems
* Cataracts and Tumors
* Digestive Problems
* Tearing
* Heart Disease
Thousands of the nation's top breeders use NuVet Plus to keep their puppies, kittens, breeding females and males so healthy!
GUARANTEED we use real chicken liver-not cooked but paddle dried by our patented process to preserve it's Omega Fatty Acids
GUARANTEED So pure it's produced in an FDA (human-grade) manufacturing facility(virtually unheard of in the pet industry due to the high cost/monitoring required
GUARANTEED not heat treated (heat destroys vitamins A, E and B1)
GUARANTEED no sugars or fillers
Our team of Veterinarians, Physicians, Pharmacists and Nutritional Scientists took eight years to develop this revolutionary product.
On the market for over13 years/We're one of the oldest US pet supplement companies
MONEY BACK GUARANTEE call now to order this revolutionary product. If this isn't the most incredible pet supplement you've ever had, we'll give you your money back.
>>Helps Heal Current Problems-And Protects The Life and Health of Your Pet--Starting Today!<<
This product is not available to the general public without an Order Code supplied by your pet professional. Not available in stores. Call now to order
800-474-7044
ID CODE 58152D
Or click here to order http://www.nuvet.com/58152
Ingredients: alfafa, alpha amylase, amino acids, beta carotene, blue green algae, brewers yeast, cats claw, chicken liver, copper, evening primrose oil, iron, L Methionine, Magnesuim, manganese, oyster shell, papain, phosphorus, pine bark, potassium, selenium, shark cartilage, taurine, vitamin A, Vitamin B-complex, Vitamin B1, B2, B3, Vitamin 5, Vitamin B6, Bitamin B12, Vitamin C, Vitamin E, Whey Protein, zinc.
Made with all natural, human-grade vitamins, minerals, and antioxidants, meeting the same strict guidelines as human pharmaceuticals. No artificial fillers or binders. Safe for animals of all ages, including pregnant females.
NEWS ***Interesting new information!!! NuVet was recently on the news in regard to the Diamond Dog Food poisoning...many kennels lost all of their dogs. Two of those kennels were in GA, and interestingly, the dogs who were on NuVet DID NOT die...it strengthened their liver....the ones not on NuVet died of liver failure. Veterinarians in the area researched this incident, and indeed, confirmed, NuVet literally saved these dogs lives!!